Vanderbilt Luxury Pontoon's new 500S Single Engine offers the same standard styling and luxury features found in the 700 series, but as a high-performing single engine chassis.
25'6" DECK LENGTH w/o Engines
3 - 25" TUBES W/BUILT-IN SKI LOCKER & INTERIOR PERFORMANCE STRAKES
WOOD-FREE SEAT CONSTRUCTION WITH EASY-OPEN HINGES
REMOVABLE & STORABLE SKI TOW PYLON
**Prices, materials, design and specifications are subject to change without notice.**
Attractive black-out railing standard
Raised docking lights for better projection and visibility
Ample bow deck boarding room
Stainless steel deck trim
FIBERGLASS COMMAND CENTER
Aggressive fiberglass design delivers functionality and style
Sport boat-inspired wrap-around, low profile windshield
All digital glass dash with touchscreen control
Grant tilt steering wheel
Head-turning interior and exterior RGB accent lighting
Intriguing exterior fence profile
Multi-zone controllable RGB Interior and Exterior mood lighting
Added bow fence storage areas
SMARTLY-DESIGNED FURNITURE
Stay cool, quick clean, linen-feel premium vinyls
Double top-stitch quilted accents
Wood-free seat and backrest construction
Premium billet fold-down armrests
Unobstructed seat storage access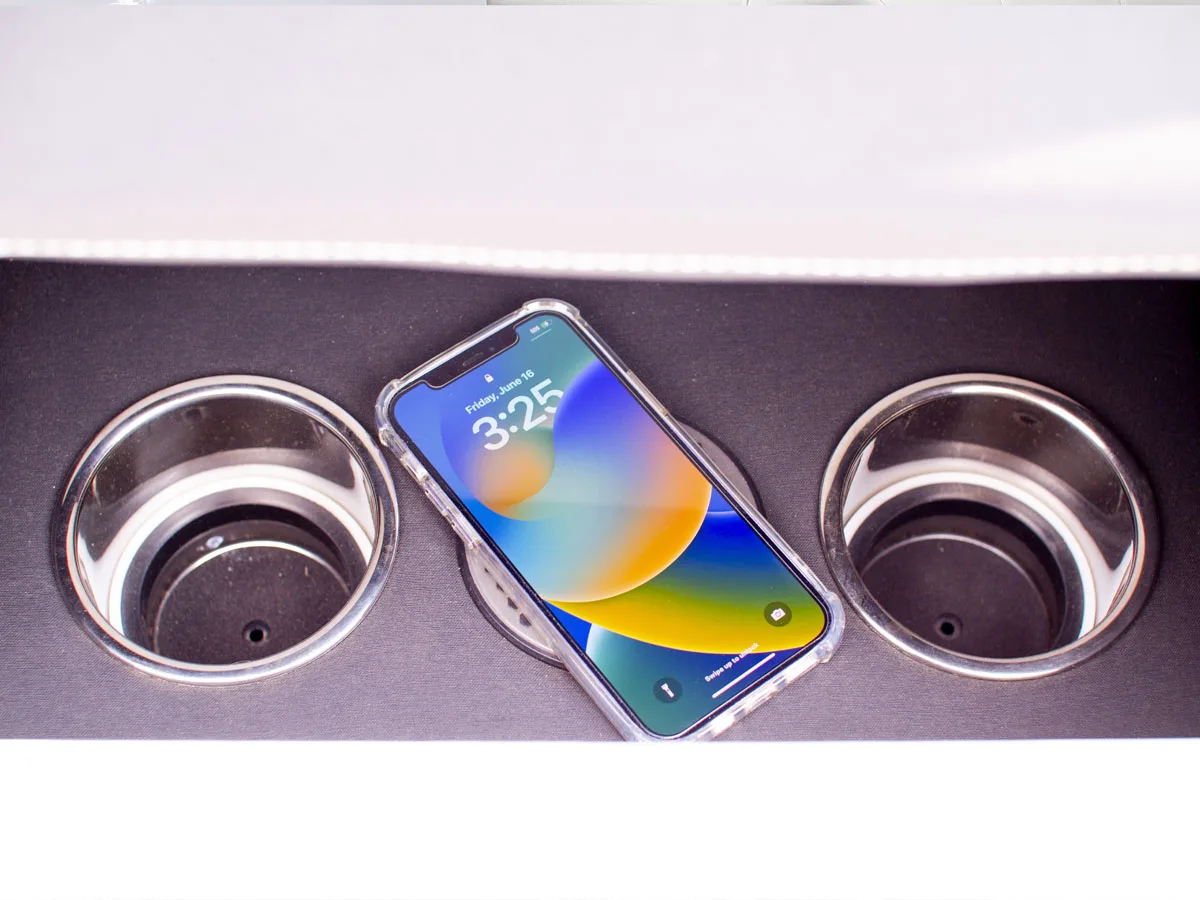 Built-in RGB Stainless Steel Lit Cupholders
Readily-available phone chargers through-out
Port-side exterior stereo remote
Flip-up table with additional cupholders
Aft-mounted 12V chargers
Pet-friendly easy-boarding ladder
Removable and storable ski tow pylon
Ghost Mounts installed standard for diving board, grill mount or flag pole upgradable options. Contact your dealer.
**Prices, materials, design and specifications are subject to change without notice. For optimum performance and safety, read the Owner's Manual before operating your Vanderbilt Luxury Pontoon. Always wear a personal flotation device while boating.**